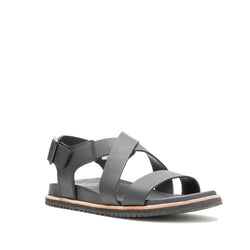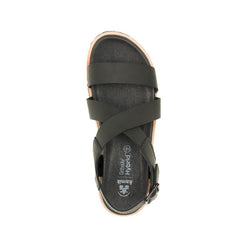 Our fashionable Sadie Cross women's sandals check all the boxes for the summer. They're made with eco-friendly gold-rated leather with a soft leather wrapped footbed that provides long-lasting comfort.
The Details
Waterproof
No Waterproofing.
-
Leather
Genuine leather and suede: This material greatly enhances protection against natural elements and terrain. Kamik's leathers are from tanneries rated Gold for their water, energy, and waste management practices.
Leather Working Group
Leather Working Group: Kamik Canada Inc. has joined the Leather Working Group (LWG) to support and contribute to environmental best practice within the leather industry.
LITE Leather
ISA TanTec's LITE™ (Low Impact To the Environment) facility is designed to control water and energy consumption, limiting chemical application during the production process to make eco-friendly leathers.
Ortholite® Hybrid
Ortholite® Hybrid™ is a patent pending formulation that uniquely blends 5% recycled rubber and 15% production waste foam for 20% eco-content for uncompromised performance with less impact on the planet.
Size chart
Test
US Size
Foot Length (inches)